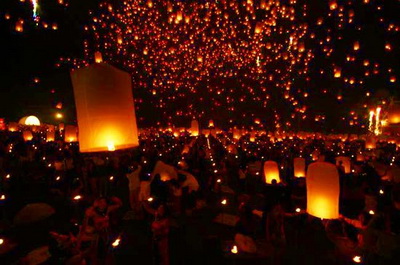 Yee Peng Festival or Loy Krathong Festival

Yee Peng the magical festival of lights and beautiful lanterns
Coinciding with Loy Krathong is Yee Peng Festival, which sees people in Chiang Mai celebrate the Lanna full moon by floating the sky lanterns called "Khom loy"
As the full moon lights up the night sky, throughout the city of Chiang Mai, hundreds of thousands of lanterns and krathong are lit and released into the sky and the rivers. This is Loy Kratong Festival.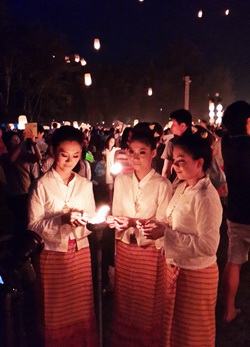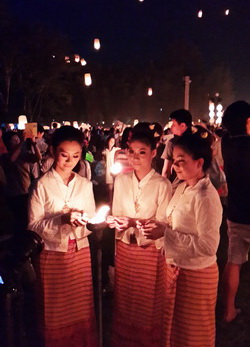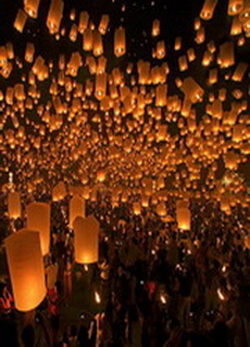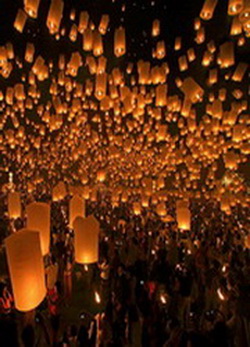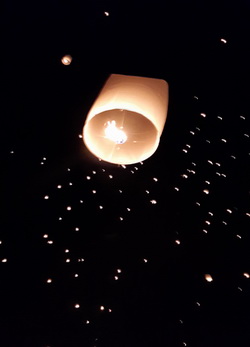 Perhaps the loveliest of Thai and Chiang Mai Festivals, Loy Krathong honors the water spirits through the launching of little candlelit floats, or krathong, in rivers and waterways. This festival, which takes place on the full moon of November, is part of Thai heritage and represents a close bond between Thai culture and water.
Fullmoon, brightly illuminated night and a sense of communal well being are the key to the appeal of the annual Loy Krathong celebration. In the Northern Thai province of Chiang Mai, which was once part of the ancient lanna Thai kingdom, the ritual of launching hot air lanterns (khom loy or khom yee peng) is a unique aspect of the region. Traditional belief has it that when the lantern is set adrift and floats away in the sky, so do all the troubles of the villagers. For the residents of Chiang Mai, the Yee Peng Festival is an exciting period where the whole city comes alive swathed in beautifully decorated lanterns made from paper.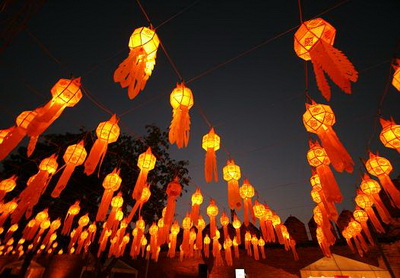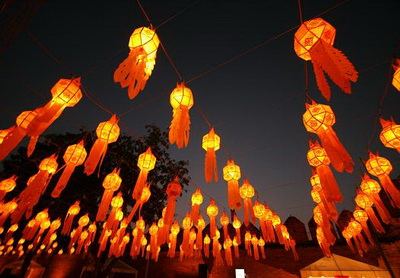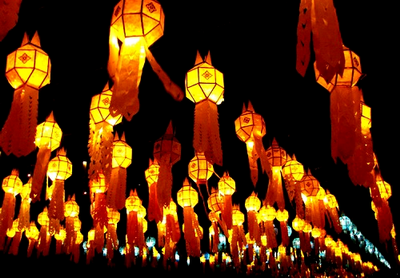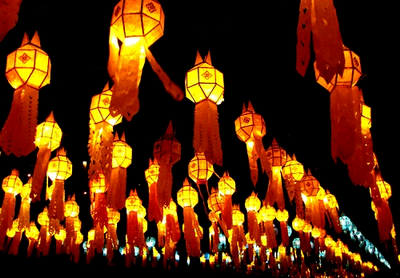 Where to Celebrate?
Across Chiang Mai, witness the captivating sight of thousands of khom loy lanterns ascending into the sky, candles illuminating narrow lanes, vibrant parades, and krathong (floating flower offerings) drifting along the Ping River. A large lantern release event is typically held at Maejo University about a week before Yee Peng. During the actual festival, main celebration sites include the Three Kings Monument, Thapae Gate, Phan Tao Temple, the Old Town moat area, and the Ping River.
To avoid the hustle and bustle of Thapae Gate or the Ping River, seek tranquility at a rooftop bar like Oasis or take a leisurely stroll along candlelit lanes. Temples and local homes adorn their entrances with flowers and coconut leaves, and the tradition of creating or donating khom loy and krathong holds deep significance in Buddhist culture, symbolizing the transition from darkness to light.
For the best places to experience Yi Peng Lanterns in Chiang Mai, we recommend events organized by Chiang Mai Arts & Design (CAD). Choose from various ticket tiers: Standard, VIP, and Premium. Delight in diverse performances and savor delicacies from all corners of Thailand at a single event. Immerse yourself in the local culture through sights and tastes with an all-inclusive ticket, complete with food and drinks.